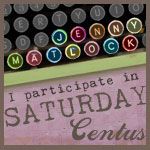 This is a themed writing meme.

You can use UP to 100 words (not including the prompt) to tell your story. You cannot use pictures to illustrate your story. It can be fact or fiction. The only restrictions is the prompt must be left intact WHICH MEANS you cannot split up the words in the prompt.
You have the entire week to link your work to the meme and you can link more than one story if you like.
Please display link button or just a hyper-link back to Saturday Centus. Be careful to link your SC URL to the Linky and not just link to your main blog.
I would suggest that since these are so short, if you can't think of a title just use your blog name as the title in the Linky.
Try to visit each one because there are some amazing writers participating in this meme. Since the links are so short they are also a fun and quick read.
WEEK 20 PROMPT



"This is never going to come out," she thought as she scrubbed at the spot on the worn carpet.
This is my text:

"I can still smell it", said Rebecca, kneeling with her nose just inches above the floor.
"Pity, it was an heirloom from Grandma, genuine Persian," lamented Cathy.
"Well, let's try some of this special soap that Peter at

Pet Palace

recommended,"
Rebecca replied
, opening a bottle and dabbing a quantiy of a liquid onto a sponge.
"This is never going to come out," she thought as she scrubbed at the spot on the worn carpet.

Anna-Matilda, the new red-striped kitten, looked on, shaking and cowering, hidden under the antique china cabinet, out of sight.
Purrs,/
Nospussar,
Sara Cat/
Sara Katt
First Commenter: /
Den första kommentaren lämnades av:
Kat of
Emptynester
Visit other Saturday Centus participants at this
site.
Here's a Swedish translation of this writing exercise:
Här följer en svensköversättning av skrivövningen:
------
"Det luktar fortfarande", sade Rebecka, när hon stod på knä med näsan bara några centimeter ovanför golvet.
"Så synd. Det var en verklig släktklenod efter mormor. Äkta persisk matta," klagade Katarina.
"Men då får vi pröva det här nya rengöringsmedlet som Peter på Djurmagasinet rekommenderade", svarade Rebecka, när hon öppnade flaskan och hällde en skvätt vätska på tvättsvampen.
"Det här kommer aldrig att försvinna", tänkte hon och gned fläcken på den slitna mattan.

Anna-Matilda, den nya rödrandiga kattungen, tittade ängsligt och darrande på, där hon stod gömd under porslinsskåpet, utom synhåll.
------
Meow!! Please leave a comment! To open the comment box, go to the end of the post and click on link with the phrase "Skicka en kommentar", which literally means "Send a comment". "Förhandsgranska" means "Preview". "Publicera din kommentar" means "Post Comment". Thank you for your patience!